One week ago — March 15 — marked the 25th anniversary of my very first mock trial in the Massachusetts Bar Association's High School Mock Trial Tournament.
I was in 8th grade (back when "high school mock trial tournament" was more loosely defined).  The guy I cross-examined had a mustache.  I was wearing a bow tie.  He smirked at me when I stood up to question him.  He wasn't smirking when I sat down.
All of which is a long way of saying that I have a long-standing passion for this program (as well as a good memory and a bit of a competitive streak).
The mock trial program provides high school students with the opportunity to learn critical thinking skills, oral advocacy, confidence, and poise — vital lessons neatly concealed within a competition that allows them to go toe-to-toe with their peers.  The students take on the roles of attorneys and witnesses in an actual trial, governed by the rules of evidence, in front of a judge (or real lawyer playing the role of judge for a day) who scores their performances.
In high school, I was part of an amazing team that had a tremendous run of successes — four state championships in five years.  Since that time, I've been involved with the program as a teacher coach (between college and law school), a member of the MBA's Mock Trial Committee, a volunteer judge, and, most recently, as an attorney-coach for the Winsor School's Mock Trial Team.  The Winsor School is an all-girls private day school in Boston.  No mustaches.  Not even a bow tie.
Winning Winsor Women!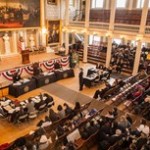 And I am very proud to announce that on March 20, the Winsor School won this year's championship, narrowly edging the Pioneer Valley Performing Arts Public Charter High School in a trial held at historic Faneuil Hall in Boston, before a scoring panel of three judges.  This is Winsor's second state championship; they also won in 2010 (after which I took a two-year hiatus from coaching, returning this year to take another run at the title with them).
The MBA's website includes this bit of praise from the presiding judge:
Massachusetts Appeals Court Associate Justice Peter W. Agnes Jr. presided over the mock trial and was assisted by Superior Court Associate Justice John T. Lu and Superior Court Associate Justice Kathe Tuttman.

"This was an inspiring performance," Agnes said of both teams, whom he praised for their poise and ability to handle the complicated evidence. "I don't think I've seen any law school mock trial competition that was better than any performance I saw today."
Judges often comment that students competing at a high level in mock trials are better than most attorneys they see in their courtrooms.  To be fair, the students have a lot more time to practice individual roles (and they're not charging anyone any money for that time!).  But it is also true that very few attorneys have had the opportunity to develop and refine their trial techniques to the degree that students involved in mock trial do.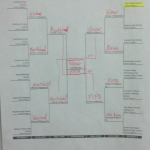 And this particular team, I must say, also displayed real courage — "grace under pressure" — in their difficult road to the championship, facing a series of former state champions in their run through the playoffs.  (That pic there is the bracket that has been hanging on the wall in my office since the playoffs began.  I've been filling it in by hand.  See "bit of a competitive streak" above.)
Next the team travels to Indianapolis for the national tournament in May.  We'll see how they fare as Team Massachusetts.  Meanwhile, I now have as many championships as a coach as I do as a participant (four as each).  But no team from Massachusetts has ever been first in the nation.  Who knows?  This courageous group may have it in them.